Explore The Berkshires
Located approximately 140 miles north of New York City and 120 miles west of Boston, Berkshire County is internationally renowned for its natural beauty, rich history, and picturesque New England towns.
Find Your Berkshire Community
Each community in the Berkshires has a distinct personality – not to mention its own set of attractions. Whether it is dining, shopping, or cultural attractions, the Southern, Central, and Northern sections of Berkshire County come together to create a piece of New England that attract people from all over the world. Explore our communities to help you plan your next Berkshire vacation or research relocation.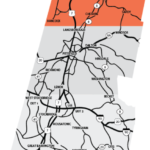 Fun Facts About the Berkshires
Herman Melville wrote the novel Moby Dick at his home, Arrowhead, now a National Historic Landmark in Pittsfield.
At 3,491 feet, Mount Greylock is the highest point in Massachusetts.
Norman Rockwell, an American illustrator, made his home in Stockbridge.
The Mount in Lenox was the home of famed writer Edith Wharton.
The movie Cider House Rules was filmed at Ventfort Hall Mansion and Gilded Age Museum in Lenox.
The Quaker Homestead of the famed womens' rights advocate Susan. B. Anthony is located in Adams.
Chesterwood in Stockbridge was the home of Daniel Chester French, sculptor of Abraham Lincoln, Lincoln Memorial.
Actress Karen Allen, best known for her roles in Raiders of the Lost Ark, Indiana Jones and the Kingdom of the Crystal Skull, and Animal House, lives in Great Barrington. She is an avid knitter and started her own textile company in 2003, Karen Allen Fiber Arts.
American folk singer Arlo Guthrie wrote the song Alice's Restaurant based on a true incident in his life that happened on Thanksgiving Day, 1965 in Stockbridge.
Crane & Company based in Dalton is the manufacturer of cotton-based paper products used in the printing of US currency.
Olympian downhill skier Heidi Voelker grew up in Lee, MA.
Singer/songwriter James Taylor has a home in Lenox.
Gwyneth Paltrow began her career at Williamstown Theatre Festival under the direction of her father, Bruce.
A 1791 baseball document found in Pittsfield suggest that the all American game may have been born in Pittsfield!
The Berkshires Then & Now
Difficult to define, but impossible to miss, is the timeless quality that emanates from the Berkshire hills of Western Massachusetts—a peacefulness that has drawn visitors and residents to the region for generations. Many of these fans are creative types—writers, painters, performers, and poets—who find their inspiration in the area's beauty and serenity.
To understand the Berkshires' allure, one must look into the region's past: The county's rolling hills are nestled against several mountain ranges, formed from glacial deposits that created natural boundaries separating the region from Vermont, New York, and Connecticut. For thousands of years, the Berkshires has beckoned visitors—native American tribes; farming and industrial settlers from England, Ireland, Holland and Germany; and today, travelers from everywhere around the world.
Rich soil, abundant lakes, and fruitful hunting grounds provided a good living to the early settlers. Ensuing generations continued to discover the area's many natural attractions. The missionary, John Sargeant, built the first Mission House in the Berkshires—in Stockbridge in 1739—on a hilltop offering breathtaking views. It was likened to "Paradise" and became known as "Eden Hill."
In 1797, Zenas Crane settled in Dalton and began constructing paper mills along the Housatonic River. For years, European royal families and American presidents have purchased Crane's fine paper—made from "rags"—for weddings and state affairs. Today all U.S. currency is produced by Crane & Company Paper Makers.
By the mid-1800s, the Berkshires was becoming a popular home for writers, artists, and musicians. Mount Greylock, the state's highest peak, provided Hawthorne, Melville, Bryant, and Thoreau with inspiration as they wrote their American classics.
Henry David Thoreau, in A Night on Mount Greylock, wrote about the mountain's magic:
"As the light increased I discovered around me an ocean of mist, which by chance reached up exactly to the base of the tower, and shut out every vestige of the earth.…. It was such a country as we might see in dreams, with all the delights of paradise."
In 1860, the Shakers fled Manchester, England for the Berkshires, to escape religious persecution. Living simple lives, "giving their hands to work and their hearts to God," the Shakers were agricultural specialists, innovators, and inventors—and well ahead of their time. The Shakers became known for their heirloom livestock, herbal gardens, furniture making, medicines, cooking, building designs and many other practical means for living. The Shakers are gone, but today Hancock Shaker Village, Pittsfield, is a living history museum that includes 21 original buildings surrounded by walking trails.
The late 1800's and early 1900's ushered in the "Gilded Age" in the Berkshires. Wealthy families from New York and Philadelphia chose the cool and refreshing Berkshire hills to spend their summers in what they dubbed, rather ironically, their "cottages"—in truth, they were mansions, built on exquisite parcels that typically featured spectacular vistas, elaborate gardens, and enticing wooded pathways. The cottagers created elegant and romantic names for their summer retreats: Naumkeag, Chesterwood, Wheatleigh, Belvoir Terrace, Blantyre and Ventfort Hall. As fortunes declined, so, for a time, did many of the cottages. Historic preservation programs and private investment have revived the estates as luxury resorts, restaurants, and museums.
Classical music was among the plethora of refinements that the cottagers brought to the Berkshires. In 1936, Serge Koussevitzky and the Boston Symphony Orchestra began a weekend series of three concerts under a tent on a grassy lawn of the Tappan family's estate. A torrential rainstorm during one concert failed to dampen anyone's enthusiasm—organizers at once began designing a "music pavilion" to offer the orchestra and attendees protection from the weather. Built in 1938, the "Shed" at Tanglewood continues to beckon music lovers year after year.
Tanglewood is the number one attraction for visitors to the Berkshires; the Boston Symphony Orchestra typically performs three concerts every July and August weekend. In what is now an enduring Berkshires tradition, patrons' picnic—often with elaborate meals and elegant table settings—on the velvety lawn surrounding the Shed.
The Gilded Age also inspired dancing in the hills. In the early 1900's, legendary dancer and choreographer Ted Shawn and his wife, Ruth St. Denis, bought a farm in Becket to establish a setting for training men in dance. Thus, Jacob's Pillow, America's first and oldest dance school was born. The school, site of a family farm in the 1700's and a station on the Underground Railroad in the 1800's, has been designated a National Historic Landmark for its "cultural leadership and prominence in American history."
Interest in the visual arts was likewise stimulated, as painters, photographers, and others sought to capture the region's places and faces. Artist and icon Norman Rockwell, the famed chronicler of American life, moved to Stockbridge in 1953. Rockwell had a close personal relationship with the townsfolk, many of whom served as models in his paintings. His "vivid and affectionate portraits of our country" earned him America's highest civilian honor, the Presidential Medal of Freedom. The Norman Rockwell Museum at Stockbridge possesses the world's largest collection of his works. The artist's original studio, complete with the original easel, brushes, and furnishings that served Rockwell in his work, has been relocated to the site.
In addition to the Rockwell, museums of nearly every description—housed in venues that range from vintage homesteads to sprawling factory complexes—dot the Berkshires from one end to the other. Chesterwood, in Stockbridge, is the 122-acre estate of sculptor Daniel Chester French. Visitors can tour his original studio and see French's working models of such masterpieces as The Lincoln Memorial and The Minute Man.
Another Stockbridge gem is Naumkeag House & Gardens, a picturesque Stanford White designed house, built in 1886. Surrounded by extraordinary gardens and filled with period antiques and art, the home was built for prominent New York attorney and US ambassador, Joseph Hodges Choate. Among the notable events at Naumkeag was a visit from President and Mrs. William McKinley in 1897. Impressed by his host, McKinley two years later appointed Choate Ambassador to Britain's Court of St. James's.
Nearby Lenox is also home to similar historic attractions, including the Berkshire Scenic Railway Museum, which offers a 20-mile narrated trip in vintage coaches, hauled by a diesel engine. The Mount, the early 20th-century estate of writer Edith Wharton, has undergone an extensive renovation, inside and out, to restore the original grandeur of the home and gardens. Wharton, the author of The Age of Innocence, Ethan Frome, and The House of Mirth, created the Mount based on design principles she advocated in The Decoration of Houses, a book that remains a standard work for designers.
George L.K. Morris and Suzy Frelinghuysen began their careers as abstract artists in the 1930's. In the early '40's, they built their uniquely designed Lenox home, now the Frelinghuysen Morris House & Studio museum. The house features the couple's artwork, along with pieces by colleagues and contemporaries including Braque, Picasso, Gris, and Leger.
Moviegoers will recognize Ventfort Hall, The Museum of the Gilded Age, as the orphanage in The Cider House Rules. This 1893 mansion, which is open while it undergoes an extensive renovation, was built for Sarah Spencer Morgan, sister of J.P. Morgan, the famed financier and art collector. Not a penny was spared during the original construction: among Ventfort Hall's interior features is a grandly ornate wooden staircase, overlooking the structure's Great Hall.
In Pittsfield, Moby-Dick fans can tour Arrowhead, writer Herman Melville's home of thirteen years and the place where he penned his most renowned work. Legend has it that Melville was inspired to create Moby-Dick's great whale as he gazed upon Mount Greylock's stark gray visage from the window of the study in which he toiled.
Further north, in Williamstown, the Sterling and Francine Clark Art Institute is both a museum and an international center for visual arts research and discussion. The Clark's outstanding collection includes a series of intimate galleries displaying French Impressionist, American and Old Master paintings; master prints and drawings, English silver and porcelain; and early photographs. Here visitors will find the works of Claude Monet, Edouard Manet, Edgar Degas and Pierre-Auguste Renoir along with those of Winslow Homer, John Singer Sargent, and Frederick Remington. A breathtaking 140-acre campus of meadows, lawns, and hiking trails surrounds the museum itself.
Also in Williamstown is the Williams College Museum of Art, one of the country's finest college art museums. The museum houses 11,000 works spanning the history of art, with an emphasis on modern and contemporary art, American art throughout the nation's history and the art of cultures from around the globe. It also features the world's largest collection of works by Maurice and Charles Prendergast.
North Adams, next door to Williamstown, boasts the largest center for contemporary arts in the United States. The Massachusetts Museum of Contemporary Art (MASS MoCA) occupies a 13-acre campus of renovated 19th-century factory buildings. With facilities that offer huge spaces and the latest fiber optic, digital and new media technologies, MASS MoCA is able to mount exhibits unlike those of any other museum venue in the world.
Just a block from MASS MoCA, two smaller museums grace North Adams' Western Gateway Heritage State Park. The park's Visitors Center offers exhibitions and programs, along with permanent displays covering the fascinating story of the building of the Hoosac Tunnel. The museum depicts, in photographs and artifacts, the construction of the Hoosac Tunnel, which in its day was the longest tunnel in America. Under construction from 1850-1874, the five-mile long rail tunnel—one of the greatest engineering feats of that century—took 196 worker's lives and cost the then-astronomical sum of $21 million. Adjacent to the Visitors Center is North Adams Museum of History and Science, which features more than 25 exhibits on three floors, which portray a microcosm of America through the history of North Adams and the Berkshires.
The Berkshires' cultural panorama also includes a range of theater offerings. Even the theater venues—both existing and planned—underscore the timeless quality of the area. Shakespeare & Company in Lenox is planning to build the world's only historically accurate reconstruction of Shakespeare's first theater, the Elizabethan-era Rose Playhouse. The theater will be surrounded by medieval gardens and buildings that evoke a village of the
1590's. Patrons currently view plays written by Shakespeare and others in one of three theaters, including a tented outdoor site where the Rose Playhouse will one day be erected.
The Berkshire Theatre Festival's Stockbridge facility was designed and built by Stanford White in 1888 as the Stockbridge Casino. Once a center of the town's social life, it fell into disuse by the 1920's. Reopened as a theater in 1928, the former Casino's stage has attracted stars including Ethel Barrymore, Montgomery Clift, and Claude Rains. Today it is one of the oldest professional performing arts venues in the Berkshires.
Pittsfield's Colonial Theatre and The Mahaiwe Performing Arts Center, Great Barrington, have been magnificently restored and offer year-round live performances and film. In Pittsfield, the Barrington Stage Company, established in 1995, is a relative newcomer to the theater scene. Barrington Stage nevertheless offers award-winning musicals, comedies, and dramas and is already well known for innovative programs to make theater more accessible to all. Pittsfield is also home to the Colonial Theatre, an incredible restored masterpiece.
Each summer, the Williamstown Theatre Festival, established in 1955, presents more than 200 performances of new and classic plays, attracting actors such as Olympia Dukakis, Blythe Danner, Richard Dreyfus, Gwenyth Paltrow, and others for summer productions. In 2002, the Williamstown Theatre Festival became the first summer theater to ever receive a Regional Theatre Tony Award, for the institution's artistic achievements and contribution to the world of theater nationally.
No amount of time spent in the Berkshires would be complete without sampling the region's wealth of musical offerings. Live music abounds, whether it's popular music at clubs such as Lion's Den at the Red Lion Inn located in Stockbridge, Mission Restaurant & Bar in Pittsfield, Infinity Music Hall just across the border in Norfolk, CT or chamber music performances at one of the many venues, such as Close Encounters with Music in Great Barrington.
Sheffield's Berkshire Choral Festival brings chorus music to the hills. In Great Barrington, the Aston Magna Festival offers an intimate setting for music that ranges from Baroque to early Romantic.
The timeless aura of the Berkshires is underscored by tradition as well. For over half a century, the city of North Adams has ushered in the area's spectacular fall colors with its annual week-long Fall Foliage Festival, which culminates in a huge parade of floats, bands, parade vehicles, and performers.
For nearly as long the Sheffield Antiques Show has attracted collectors and dealers to Sheffield for three days of buying and selling. The Berkshire Crafts Fair, Great Barrington, has presented its juried show of traditional and contemporary crafts for more than 30 years. For over 30 years, the Annual Great Josh Billings RunAground team triathlon has featured biking canoeing and running and you can also come and run in the Berkshire Marathon, happening over Memorial day weekend.
No holiday season is complete without a visit to the Festival of Trees at the Berkshire Museum, when more than 200 creatively decorated Christmas trees are displayed throughout its galleries. A true family museum, the Berkshire Museum is a treat any time of year, with its eclectic mix of history, art, and interactive science displays.
The Berkshires' traditions are continually growing, through newer events such as the Berkshires Arts Festival, featuring 200 juried artists and artisans coming together at Butternut Basin in Great Barrington; and Lift Ev'ry Voice, a countywide celebration of African-American Culture and Heritage in the Berkshires; are taking place during the summer.
It's not surprising that a place of the Berkshires' singular beauty and tranquility has helped breathe life into so many creative individuals and institutions. Berkshire County continues to serve as that rare refuge where life—then and now—simply moves at a difference pace. Get out and about in the Berkshires!