The Berkshire Flyer provides rail service from New York City to Pittsfield in the Berkshires each weekend from May 26 – October 9, 2023. Tickets on sale now! Book early to guarantee yourself a seat and come discover summer #intheberkshires.

All Aboard!
Reserve Your Seat
Tickets sell fast! Book your train ticket today to relax on your ride to the Berkshires of Western MA.
Plan a Getaway
Find Things to Do
Our region features outdoor adventure, world class culture, dining experiences, and more – all against the beautiful backdrop of the Berkshires.
Itinerary Inspiration
Follow the Flyer
Follow @theberkshireflyer on Instagram for the latest Flyer updates and inspiration for your next Berkshire adventure!

Helpful Information
Plan Your Trip
Economy tickets start at $45, and will not exceed $105 one way. Book early to guarantee yourself a seat! The Flyer typically sells. Book your ticket now.
INSIDER TIPS:
As of last summer, the federal mileage rate was raised to 65.5 cents per mile. If a visitor were to drive to the Berkshires from NYC it would cost over $100 each way. Take the train and save!
Memorial Day weekend and Labor day weekend Flyer services are the only weekends where passengers get to spend two full days and three nights in the Berkshires.
Service runs May 26th through October 9th, 2023. The train departs from New York Penn Station at 3:16 p.m. on Fridays, and arrives at Joseph Scelsi Intermodal Transportation Center in Pittsfield at 7:12 p.m. Departure from Pittsfield is about 3:00 p.m. on Sunday and arrival in New York City is 7:05 p.m.
After you arrive in the Berkshires, you will need a way to get from the train station to where you are staying. We highly recommend you make advance plans to travel from the train station to your final destination and make similar plans to return to the station on Sunday. A variety of transportation options are listed below. Hopefully one will be the perfect fit for you and your Berkshire vacation!
Bus

Taxi & Limo Services
These are independent service providers that cannot be booked in advance. Providing the below contact information is not an endorsement of their services.

Uber & Lyft
These services are extremely limited in Pittsfield and throughout the Berkshires. Unless you have made arrangements directly with a driver, we do not recommend using these services as a means of reaching your final destination or returning to the train station.
Food Service
The Berkshire Flyer does not offer food service, so be sure to pack a tasty treat and even a bottle of vino (alcohol is allowed) to enjoy on the ride. Don't forget to bring a bit of the Berkshires home with you for your return service!

Ride & Save
20% Off Theater Tickets
Berkshire Flyer riders can get 20% off tickets to a Berkshire Theater Group produced show by giving a reservation number to an associate at the time of purchase and showing the train ticket when picking up the ticket(s). Stop by The Colonial Theatre at 111 South Street in Pittsfield or call the ticket office at (413) 997-4444 to order tickets for a weekend getaway!
Ride & Save
1/2 Price Admission
Berkshire Flyer patrons will receive 1/2 price off general admission at Frelinghuysen Morris House & Studio! Just present your Berkshire Flyer train ticket at the door to receive your discount. Remember! Tickets sell out fast so don't be last!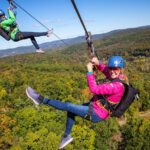 Ensure Your Berkshire Summer
5 Reasons to Hop on Board
Craving a weekend away in the Berkshires? Catch the Berkshire Flyer and relax in comfort from New York's Penn Station all the way to Pittsfield, MA, in the heart of the Berkshires. Here are 5 things you won't want to miss during your weekend #intheBerkshires.
PLANNING RESOURCES
Use These Travel Tools
Use these year-round go-to resources detailing what to do, where to stay, and all things delicious and fun #intheberkshires.
#HeartoftheBerkshires
Downtown Pittsfield
Learn about Downtown Pittsfield: the walk-able mile of food, theatre, music, festivals, art, shops, and more!
Connect with the Citty
Learn About Pittsfield
Pittsfield is the largest city in the Berkshires of Western MA. Explore to learn more!

What Riders Are Saying
Press About The Flyer
See what riders are saying about their experience on The Berkshire Flyer and spending a weekend #intheBerkshires!
SHOWCASE YOUR BUSINESS
Promote With The Flyer
Interested in promoting your business with the Berkshire Flyer? Our Berkshire Flyer Media Kit has a variety of opportunities showcase your business and maximize your exposure to visitors planning their trip to the Berkshires!