Off the Beaten Path
Posted on August 04, 2022Written by Gretchen M. Michelfeld
Updated on November 21, 2022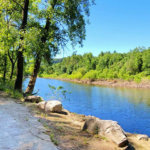 Berkshire Trails for Everyone!
For decades, residents and visitors alike have waxed rhapsodic about the amazing hiking opportunities in the Berkshires. Whether you've explored our trails extensively or are making your first pilgrimage to the Berkshire hills, we have some awesome suggestions for all skill-levels and inclinations. 
Wondering Where to Start?
The Berkshire Natural Resources Council is a tremendous source of inspiration for those of us who want to hike, walk, birdwatch, picnic, and get back to nature in general! With over 12,000 acres of trails all over the region, the Parson's Marsh in Lenox is half hard-packed surface and half boardwalk so all kinds of visitors can enjoy the surrounding wetlands and woodlands. Pack a picnic to munch on near the water! For a short but challenging hike with breathtaking views, head up to North Adams and check out the Hoosac Range. If you're in southern Berkshires, hike along Clam River where you can search for old stone walls and traces of house foundations. There are three trails covering 4.3 miles of moderate elevation change.
Looking for a Group?
Western Mass Hilltown Hikers is a nonprofit dedicated to preserving and promoting the natural beauty of Western Massachusetts. Besides providing free trail maintenance and educational presentations to other civic groups and nonprofits, Hilltown Hikers offers free monthly group hiking events and even "flash" events for adventurous hikers who can be ready to go in 48 hours! Even if you feel like hiking alone or with your own small group, you must check out their website for links to over a dozen free Berkshire-area trail maps!
Solo hikers who appreciate meeting up with fellow ramblers love to take advantage of the group excursions led by Berkshire Camino! Berkshire Camino's woodland adventures and town walkabouts are led by warm, friendly guides who encourage each person to "walk at the speed of curiosity." Several multi-day "pilgrimage walks," are also offered from May through October, and include lodging and most meals. Quite the Berkshire experience!
If you've arrived as a group, try tackling a trail on Mount Greylock – there's someone for every skill and schedule. History buffs may want to visit the Ashley House in Sheffield, an anchor site of the Upper Housatonic Valley African American Heritage Trail. Visit the property to see an exhibit about Elizabeth Freeman, and then hike to Bartholomew's Cobble, a 1,000-foot high bedrock offering panoramic views. Looking for something a little less rugged? Indulge in the Berkshires' peaceful life pace along the Tranquility Trail at Pittsfield State Forest. This 0.6 mile loop is accessible to everyone. Another option is Greylock Glen's Meadow Loop, a 10-foot wide gravel path that winds through the picturesque Glen.

If You Simply Must Learn All About Ferns…
… or wild edibles and medicinal flora? Or waterfalls? The expert naturalists of Tamarack Hollow combine great hikes with place-based natural and cultural education opportunities aimed at making us all better stewards of the land. You can also get your rhythm on with Tamarack's drum and song classes, not to mention their annual "Drum and Dance" festival in October.
Variety Is the Spice of Life!
If you're in the mood to mix it up, rent a bike at Berkshire Bike and Board (with locations in Great Barrington and Pittsfield) and hit the trails at Ashuwillticook or pitch a tent at Clarksburg State Park. Try horseback riding at Kenneth Dubuque Memorial State Forest, or enjoy the falls at Bash Bish Falls State Park!
You'll want to keep coming back to the Berkshires for our infinite variety of trail experiences. The Berkshire trails really are for everyone! Find more hiking and biking inspo here.
Photo Credits: Western Mass Hilltown Hikers; Mount Greylock, Michelle Murphy
Return to The Berkshires Blog.
In Categories